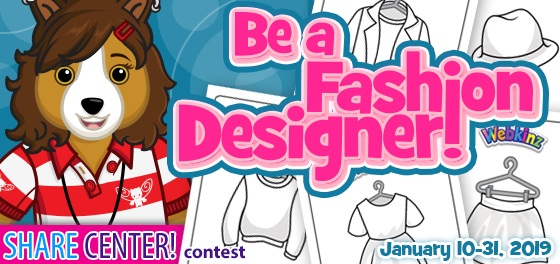 We're starting out the year by inviting our players to be a part of the creative process behind Webkinz! We want YOU to be the newest fashion designers in Webkinz World!
From January 10 – 31, submit your clothing designs to the Share Center for a chance to have your design turned into virtual clothing and added to the KinzStyle Outlet.
Here's how it works:
Download one or more of the attached templates, or just use a template as a guideline to make your own original design.
Create a fabulous new clothing piece. Add buttons, bows, lace, patterns – whatever you want! You can use any kind of art supplies that you want – markers, pencil crayons, crayons, or other art materials. While we will not accept images that have computer generated patterns or graphics copied and added to them, participants may use programs like Paint or Photoshop to color and draw freehand. We can't accept submissions with company logos or sports team emblems. Please make sure you save your images as a jpg, gif, or png.
Upload your design to the 2019 Clothing Designer Gallery in the Share Center by midnight on January 31, 2019.
On February 4, 2018, 20 finalists will be announced on Webkinz Newz, and on Valentine's Day, February 14, 2019, five Grand Prize Winners will be announced!
Then the Webkinz art team will get to work turning your designs into actual clothing in Webkinz World!
The five Grand Prize Winners will receive a new Clothing Design Trophy, a Fashion Show Station, courtesy of Ganz eStore, and have their clothing items turned into virtual clothing in Webkinz during 2019. All 20 finalists will each receive a six pack of Winterfest Cookies.
So get your creative juices flowing! This time next year you pet might be modeling an outfit designed by YOU!
Click on the image to open the downloadable PDF template.
See full contest rules here.