Another tasty treat from our archives!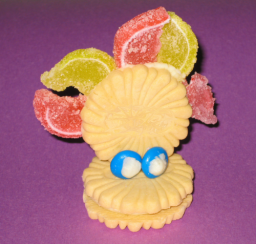 What you need:
Two candy coated round chocolates
4 vanilla cream stuffed cookies
Sugar coated candy
What you do:
Split the cream stuffed cookies so cream remains on one side of cookie.
Press sugar coated candy into the cream of one cookie.
Put another cream covered cookie on top with the sugar cream facing down on the candies, this makes the "body."
Use vanilla cream as "glue" to attach "body" to one cookie.
Using vanilla cream, make two balls and attach to candy coated round chocolates to make "eyes."
Attach "eyes" to cookies.
A great treat to make for each person to enjoy after a delicious Thanksgiving meal!
Do you have a great idea for a craft, recipe or party game? We'd love to hear them!