Add some floral flair with these funky flowers! This craft is from our archive.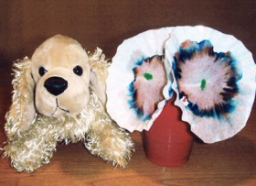 What you need:
Coffee filters
Green pipe cleaners
Cup
Markers
Water
What you do:
Fill cup half way with water and place to the side.
Soak pipe cleaner in water.
Draw a design in the center of each coffee filter with markers.
Stick end of pipe cleaner into center of decorated coffee filter about ½ inch and fold down to secure in place. Watch your flower design appear in the center of the coffee filter.
fun
fun 
fun

Try making a "garden" with lots of colorful Funky Flowers!
Do you have a great idea for a craft, recipe or party game? We'd love to hear them!