Another blast from the past from our archives — make a cute Halloween costume for your Webkinz pet!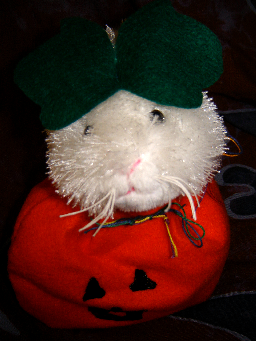 What you need:
One piece of orange felt
Needle and thread
Scissors
Black fabric paint
Small piece of green felt
A Lil' Kinz
What you do:
Fold the felt in half, width-wise (like a hamburger).
Trace the outline of a pumpkin on the felt – measure it up against your Lil' Kinz to see how big the pumpkin shape should be. Remember – your Lil' Kinz has to fit inside the pumpkin when it's done, so leave a bit of extra room.
Cut out the pumpkin shape.
Sew around the three sides of the pumpkin (left side, right side, bottom), leaving the top of the pumpkin open.
Flip your pumpkin inside-out to hide the stitching.
Now you'll need to create a drawstring at the top of the pumpkin. Thread your needle again and, at the top of the pumpkin, make a large running-stitch all the way around (NOT sewing the pumpkin together), ending a centimeter away from where you began stitching. Leave enough thread so that you'll be able to pull the top of the pumpkin to make it tighter. Tie a knot at the end of each piece of thread.
On the front of the pumpkin, draw a jack-o'-lantern face.
Cut out two green leaves and glue them together. Glue a string to the bottom of the leaves. Leave the ends of the string free so you can tie them under your Webkinz' chin. This is the hat for your Lil' Kinz.
BOOO
BOOO
BOOO
Try making this costume out of white felt and make your Lil' Kinz into a ghost!
Do you have a great idea for a craft, recipe or party game? We'd love to hear them!