St. Patrick's Day is almost here, and we found this gem in our archive.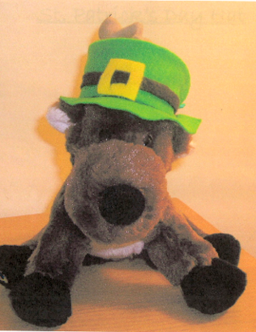 What you need:
Yellow felt
Green felt
Brown felt
Scissors
Glue gun
6" wire
Wire cutters
What you do:
Cut 1 piece of green felt into 6" x 3" rectangle.
Cut 1 piece of green felt in a horseshoe shape.
Glue the rectangle piece to the edge of the horseshoe shaped piece to form brim of hat.
Cut 1 piece of yellow felt 1" x 1". Then fold in half and cut two ½" slits side by side to form buckle.
Cut brown felt 6" x ¼" and pull through yellow felt slits so that buckle sits in the middle.
Glue strip onto green flap so that yellow square touches bottom edge.
Glue the wire toward the bottom edge of the brim and allow to dry.
Pull wire together at the back to fit around your Webkinz plush's head.
Keep your Webkinz plush fashionable on St. Patrick's Day with this fantastic hat!
Do you have a great idea for a craft, recipe or party game? We'd love to hear them!