It's me, Fiona, back for another round of fan mail! As always, for my past answers, click here! If you miss me, you can always head to KinzPost and send a letter or a package, and I'll deliver it for you! Don't forget, you can add me as a friend by going to KinzChat and adding Fiona Feathers (include the space!).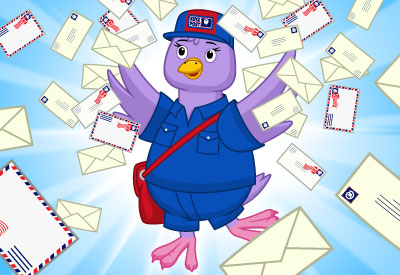 Hi Fiona. Do you think Webkinz might consider having a new pet of the month like you do now but also have a second pet of the month, one of the already released pets. – polkapandaprincess
Hi, polkapandaprincess! I'm afraid I'm not sure I understand the question — the Pet of the Month is always an already released pet. The Blue Bay Dolphin came out in June 2016 — it isn't a new pet. We don't usually have a second Pet of the Month, but you can sometimes find another "featured" pet, which gets extra activities on the Today's Activities page, but doesn't get a Pet of the Month loot bag. This can be a new pet, or and old pet, or maybe even more than one! (Whoops.. did I say that out loud?)
What happened to Kinz Tunes? I really enjoy listening to the music at Music Starz, but there hasn't been a new one since 2011. (I even bought the album on iTunes ;) – Resonatingthunder
There were sure some great songs, weren't there! Thanks for your question Resonatingthunder. I miss the KinzTunes, too. It would have been great to continue on forever, but that project had run its course. Maybe one day we can do it again… or maybe fans like you can record your own songs about the Pet of the Month and we can show them in our Movie Showcase!
Hi Fiona, I was wondering, will there be another bake sale this year? I missed out on the first two and I was hoping to participate in one. – Marshy2u
I LOVE the bake sales! And I think you're in luck, Marshy2u. I have it on pretty good authority that'll be seeing another bake sale in Kinzville in the near future.
Want to write to Webkinz?
Send your letters to:
Ganz #04360 Industrial Parkway
Cheektowaga, NY
14227-9903
Have more questions? Ask them below and you might be featured in the next edition of Fan Mail with Fiona!