Christmas may be over, but you can still celebrate the season with this cute craft from our archive!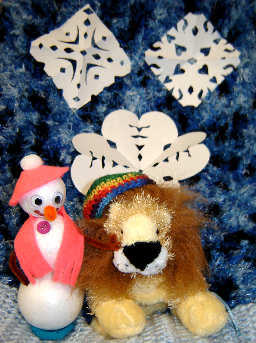 What you need:
Square of printer paper
Scissors
Glitter (optional)
What you do:
Fold the paper in half so it forms a triangle (not a rectangle).
Fold the triangle in half to make a smaller triangle.
Fold the triangle again to make a smaller triangle.
Use your scissors to cut shapes along the edge of the triangle – make sure to leave paper between the cutouts, though. Also, make sure not to cut right through the triangle (or it will fall apart).
When you've got a nice design cut out, open up the triangle to see your snowflake!
Decorate your snowflake with glitter glue if you want. Hang it up to celebrate winter!
Making snowflakes is a fun and easy way to decorate a room for the winter!
Do you have a great idea for a craft, recipe or party game? We'd love to hear them!