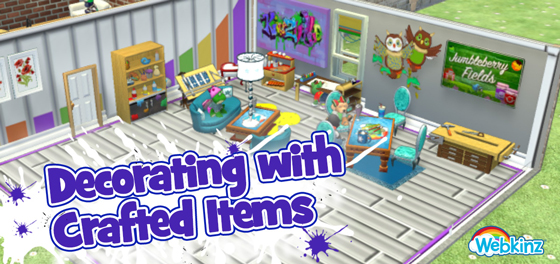 One of the coolest things to do in Webkinz Next is decorate with crafted items. You can create a collection of DIY home design items on the Workbench, Crafting Table, or Drafting Table. And, you can create adorable outfits on the Sewing Machine.
Since I love to decorate with the items I've crafted, I thought I'd show off some of the ways I've incorporated my crafting collection into my room design.
Ooh La Lyrical Corner
This corner is perfect for a warm after-dinner creative retreat. Where else can your pet lay under a few Fan Palms and strum on a Hand-Painted Guitar while basking in the heat of a luxury fireplace? The Fairy Tale Bookshelf matches the décor perfectly and, if you build one for your lyrical corner, your pet will always know where to store their sheet music or journals full of lyrics!
Cozy Cheerful Reading Nook
This corner might be the coziest place in my house. I love these floating shelves from the W Shop and it is my goal to one day line an entire room with them. But, for now, I've made this cheerful reading nook in the corner.
The Designer Tile Flooring (made on the drafting table) is a great base for this room because the neutral colors create cool contrast against the brightly colored seating. The Cheerful Chair (made on the workbench) is the bright center of this nook. I nestled it right underneath the floating shelves and mounted a simple wall shelf (also made on my workbench) beside it for added candlelight.
My favorite crafted item EVER is the set of pressed flowers you can create at your crafting table. They add an instant beautiful vintage feel to any room. Of course, right next to the cheerful chair, I had to mount a Happy Cactus Picture because they match perfectly both in mood and in vibrancy.
The Craft Room 
This is where the magic happens! I've put all my crafting tables in one room so that I can always find them. I'm missing the sewing table in here because I can't find it! But, when I do, I'll write a whole new article about DIY fashion in Webkinz Next.
Can you spot all the hand-crafted items in this room?
I hope you liked my DIY decorations! What are you favorite things to craft at the tables? Do you love building furniture? Creating wall art? Would you like to see more indoor plants? Let me know in the comments!
Download Webkinz Next now — available for Mac, iOS, Android and Windows 10. Download Webkinz Next
Follow us on social media:
social media