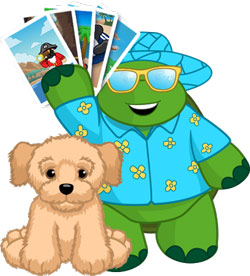 Wow – this has been a very difficult decision. But we took your feedback into account, and discussed it among ourselves, and it turns out that the Creative Team's favorite was one of the fan favorites as well.
While every submission in the Postcard Design Contest was FANTASTIC, we are thrilled to announce that the winning design is 'Friends Watching a Sunset' by princessmadilu.
Congratulations princessmadilu, you are the winner of an adorable virtual Apricot Schnoodle! Plus – your design will be made into a postcard that can be sent in Webkinz World!
Each of the nine talented runners up will receive a Spa Towel Trolley. Winners, look for a message at the email address associated with your GanzWorld account by end of day.
And watch Webkinz Newz for more information about when this amazing design will be added to the game!