Update: This contest is now closed. We will announce the finalists on August 17 and the winners on September 1. Stay tuned!!!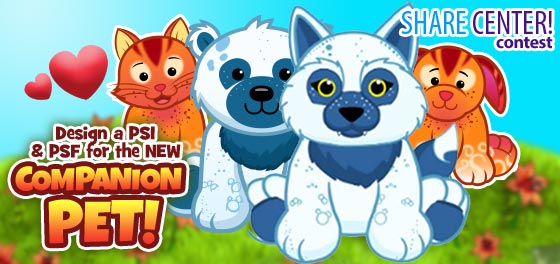 We are so excited about the winner of our companion pet design contest, the White Cosmic Wolf by kaceymusgraves. It will make a perfect companion for the White Cosmic Bear! But now this pet needs a Pet Specific Food and Pet Specific Item and that's where YOU come in! We want to see your ideas in our new Share Center Contest!
To enter the contest, between July 11 and 31, draw a picture of what you think would make a Pet Specific Food or a Pet Specific Item for this pet and submit it to the Cosmic Wolf PSI & PSF Gallery on the Share Center. You can draw either a food or an item – or you can draw both!
The winning designs will be made into virtual items that will come with this pet, which will be for sale in Ganz eStore either later in 2019, or early 2020. (Stay posted to Webkinz Newz to find out when!) The two grand prize winners will also each get a code for the virtual Webkinz White Cosmic Wolf when it is complete, and 20 finalists (10 each for food and item) will each receive a 2019 Summer Clothing Mystery Bag!
A few things to remember…
You can enter as many designs as you want!
Contestants MUST upload their work to the Cosmic Wolf PSI & PSF Gallery on the GanzWorld Share Center.
You can use any kind of art supplies that you want. Feel free to use markers, pencil crayons, crayons, or other art materials. Go for it!
While we will not accept images that have computer generated patterns or graphics copied and added to them, participants may use programs like Paint or Photoshop to color and draw freehand.
We can't accept submissions with company logos or sports team emblems.   Please make sure you save your images as a jpg, gif, or png.
See the  official rules here.