How would you love an easy, adorable way to style your baby in the latest Webkinz Next fashions? Just when you thought Webkinz babies couldn't get any cuter, we've released a NEW baby dressing feature!
From now on, dressing your baby is as easy as dressing your pet!
First, visit your baby's crib and click the dressing icon in the top right corner.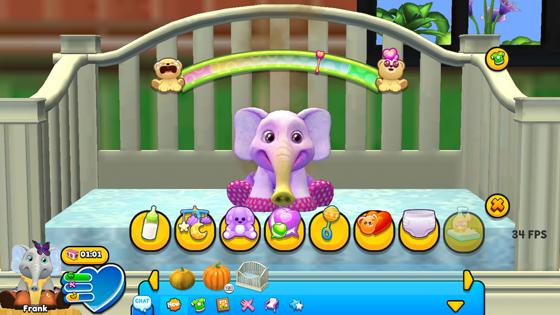 Next, drag items from your dock into the appropriate dressing boxes. If you're dressing your baby in glasses, drag a pair of glasses to the glasses box. Choosing a hat? Take it to the hat box. It's just as easy as dressing your pet! And, how cute is this new view you get of your baby??
Now your little sweetie is ready to be taken out on the town! Grab a stroller and trot your dressed-up darling around Kinzville and while you're there, visit the baby park to see the other baby fashions in town.  Maybe you'll even buy matching outfits for your pet and your baby. How cute!
Remember, you can change your baby's outfit any time by visiting their crib, clicking on the dressing icon and dragging items from your dock. There is nothing cuter than a fully dressed baby and getting cute just got easier!
Download Webkinz Next now — available for Mac, iOS, Android and Windows 10. Download Webkinz Next
Follow us on social media:
social media