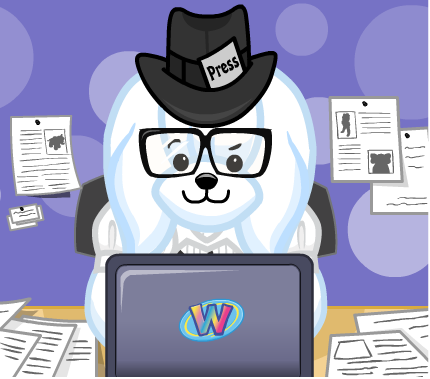 Hello readers, Ella McWoof here! I recently had the chance to sit down and interview the Mayor of Kinzville, Cowabelle Cowoline, to get the scoop on her current plans and even some insight into her future!
Ella: First of all, I'd like to say thank you Mayor Cowabelle for taking the time out of your busy schedule to talk with me. It must be hectic being the mayor while still attending school.
Mayor: My pleasure Ella—but please—just call me Cowabelle. Yes, this past year has been VERY busy. But at the same time it has been very rewarding. Kinzville isn't just my home—it's also my passion. I love being able to help make the lives of our citizens better every day!
Ella: You managed to fulfill your campaign promise to get items into all room types, which was obviously VERY popular.
Mayor: It was just the right thing to do. I'm glad everyone is now enjoying so much more freedom when decorating their rooms, whether they're indoors, outside, underwater, or in a treetop!
Ella: Unfortunately this came at the cost of a daily SPREE roll at the mall.
Mayor: It was a sacrifice that was worth making. Besides, we've been able to offer several bonus SPREE rolls to help address this.
Ella: What else do you have planned for Kinzville in 2016?
Mayor: I'm all about keeping Kinzville fresh and vibrant for citizens now and into the future. On that end, everyone should watch for some exciting new renovations coming soon to some of our most popular landmarks! It's really going to help make Kinzville much more modern!
Ella: Speaking of fixes, what's the update on the broken and invisible items in rooms?
Mayor: Once Nuts and Bolts saw that there were more items to fix than they could handle, they went out and hired some temporary extra help. I'm happy to report that hundreds of items have already been fixed, with only a few left to go! We expect the last few to be fixed over the next month or two.
Ella: And what about YOUR plans for the end of 2016? Will you call another election? If you do, will you be running?
Mayor: Well, ah… Let's just say that when the time is right, I'll be happy to hand over the Keys to Kinzville to the next worthy candidate. I'd really like to be able to focus solely on my school work again sooner rather than later, so hopefully the projects I've started will soon be well enough in hand to give me the chance to step away.
Ella: Do you have any future plans that you can share with us a little more… definitively?
Mayor: YES! I am once in the Kinzville Park handing out gifts to anyone who comes by to see me until this Friday, April 22nd! I just love meeting all of the different citizens of Kinzville!
Ella: Thank you Mayor—I mean—Cowabelle. Thank you for this interview and thank you for everything you've done for the citizens of Kinzville.
Mayor: Ella, you and everyone in Kinzville are VERY welcome.
So there you have it readers—straight from the mayor's mouth to your living rooms. What do YOU think about what she had to say? Leave us a comment below and let us know!