It's me, Fiona, back for another round of fan mail! As always, for my past answers, click here! If you miss me, you can always head to KinzPost and send a letter or a package, and I'll deliver it for you! Don't forget, you can add me as a friend by going to KinzChat and adding Fiona Feathers (include the space!).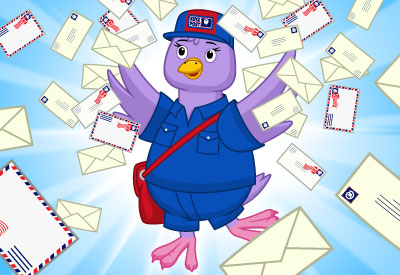 Hi Fiona! Do you know if the furniture pieces we can win from the arcade are going to change anytime soon? I'm tired of winning the same pieces day after day. I probably have over 100 Floral Bean Bag chairs and have no idea what to do with them. I would like to see the other half of the floral theme or maybe pieces from the Forest Tile theme that were available in this year's peek-a-newz. Thanks! ~Strawberryred
I can definitely pass your suggestion on, Strawberryred! Though I do hear that you might see some of the Forest Tiled pieces on some upcoming wheels, so you'll have more chances to win them!
Here's a random question :) Is the prize for Dunk the Zingoz always KC 30? My throws are always nice :) so why does the game give me four throws when all I ever need is one? – Zooooooz
I always get it on the first throw, too, Zooooooz! But I suppose if you missed, it would be nice to get another chance. There is indeed a trophy… whoever dunks Wacky at the right time wins it!
Hello Fiona. I was wondering do you know when the Wish of the Day selects a winner and how they are selected? I also wondered what kind of mail do you get excited about receiving and what are you most frequently asked about? Do you have someone helping you answer all this mail? I'd better go now, I promised to visit with my pets. – Bubblilicious!
Thanks for the question, Bubblilicious1! The system picks the winner randomly at midnight. My favorite questions are the ones where I have to go track down the Creative Director for the answer — obscure trivia about the beginning on Webkinz World. We get a lot of the same questions over and over again (good idea to check the archives to see if it's been covered!). It's just li'l ol' me sortin' the mail. I try to do my best!
Want to write to Webkinz?
Send your letters to:
Ganz #04360 Industrial Parkway
Cheektowaga, NY
14227-9903
Have more questions? Ask them below and you might be featured in the next edition of Fan Mail with Fiona!