It's me, Fiona, back for another round of fan mail! As always, for my past answers, click here! If you miss me, you can always head to KinzPost and send a letter or a package, and I'll deliver it for you! Don't forget, you can add me as a friend by going to KinzChat and adding Fiona Feathers (include the space!).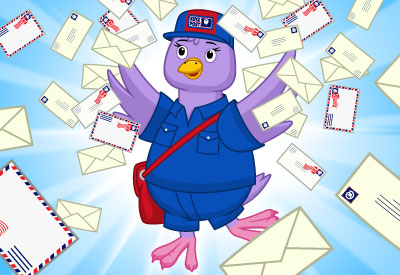 Hello there Fiona! How are you? I wanted to know, if you have a deluxe membership and it is about to expire, can you adopt a pet when you have deluxe membership then a pet membership once the deluxe membership expires? Thanks a bunch! -cottoncandykayla
I'm great, thanks for asking, cottoncandykayla! Let me make sure I understand your question… you want to know what happens if you adopt a pet towards the end of your Deluxe Membership and your Deluxe Membership expires, right? Well, you'll still have full membership for a year from the date of that pet adoption, even if when your Deluxe Membership expires! While you don't have to adopt pets as a Deluxe Member to keep your account going, you will still have a year's worth of full membership from the adoption of your last pet — but you won't really notice it unless your Deluxe Membership expires. Hope that clears things up!
Dear Fiona, I have noticed the gold template has some fine text written on it, though I can't entirely make it out. Looks to be 'Winslow's Homes' or 'Windows Homes'. I am very curious about what it really says and what it means in Webkinz World? Thanks! -g2u3c4c5i :)
You have some eagle eyes, g2u3c4c5i! The name on the trophy is actually Winslow Homer, a famous landscape painter, and it's kind of an Easter egg. The designer of the trophy was a big fan, and usually you can't read the name plate, but this time it was a bit more legible. There's no secret meaning within Webkinz World — just very enthusiastic artists!
Dear Fiona, I have a few of the Webkinz that do not have Magic W's on them. I was wondering which Webkinz were made first, the ones without Magic W's or the Cheeky Dog and Cheeky Cat? Also, I was wondering which Webkinz were made with Magic W's? I only have a pig, cow, and polar bear. I'm sure there are other ones. – janglad62
Interesting question, janglad62! The Cheeky Cat and Dog were first released in September 2005. The Cow and Pig were released in April 2005, but the Polar Bear didn't come out until September 2006. All Webkinz pets are meant to have a Magic W. Most of the time, a pet missing a Magic W is actually a manufacturing mistake. Did you know that some Webkinz pets end up with two Magic Ws?! They're pretty rare, I think, but it would be pretty neat to have one.
Want to write to Webkinz?
Send your letters to:
Ganz #04360 Industrial Parkway
Cheektowaga, NY
14227-9903
Have more questions? Ask them below and you might be featured in the next edition of Fan Mail with Fiona!