It's me, Fiona, back for another round of fan mail! As always, for my past answers, click here! If you miss me, you can always head to KinzPost and send a letter or a package, and I'll deliver it for you! Don't forget, you can add me as a friend by going to KinzChat and adding Fiona Feathers (include the space!).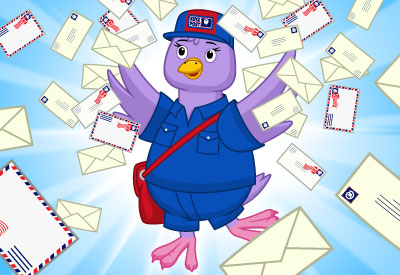 Dear Fiona, why can't I send packages when I have already adopted a webkinz? – happybiscuit22
Thank you for your question, happybiscuit22! If it's been more than a year since you last adopted a pet, your account would be considered a "free member" — these have quite a few restrictions on them. You'll need to adopt a pet once a year to keep a full membership, or you can get a Deluxe membership if you do not wish to adopt more pets.
Hi Fiona! Why are some trophies sendable and some are not? It would be great if we could send them to other accounts. – Blaine 
Ooh, good one, Blaine! Most of the time, if you can only earn the trophy once, you can't trade it or sell it. This is to keep it safe on your account! Trophies that you can earn more than once aren't as restricted… but they're also usually not as hard to earn.
If I buy one year of deluxe membership without having an eStore account I get the free pet too? I want to buy one year of deluxe membership, but I don't want an eStore account. – behe123
Hi, behe123! The only way that you can have a Deluxe Membership without a Ganz eStore account is to have someone with a Ganz eStore account buy it for you. Since they are automatically renewed, you have to have a Ganz eStore account in order to keep your details up to date, choose where your points go and have an order history with a record of your free pet. Whoever purchases the one-year Deluxe Membership would receive the free pet in their order history. Hope this helps!
Want to write to Webkinz?
Send your letters to:
Ganz #04360 Industrial Parkway
Cheektowaga, NY
14227-9903
Have more questions? Ask them below and you might be featured in the next edition of Fan Mail with Fiona!