It's me, Fiona, back for another round of fan mail! As always, for my past answers, click here! If you miss me, you can always head to KinzPost and send a letter or a package, and I'll deliver it for you! Don't forget, you can add me as a friend by going to KinzChat and adding Fiona Feathers (include the space!).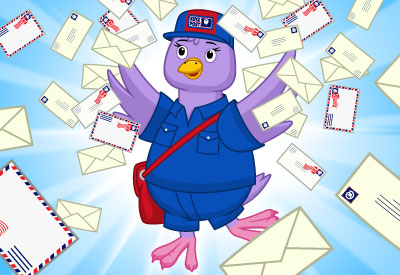 Hey Fiona, would it be possible to do a Webkinz Crafting Contest? Like the design contests, except you could make an existing item or pet out of cardboard, sewing, knitting, paper craft or really any other sort of craft! This would be very fun I think! – twinners1
I like the way you think, twinners1! Did you know that Crafty Kimmy is always looking for new crafts to showcase? You could send your ideas to her… and if you're picked, you'd win a Crafty Critterz Trophy! You can find more information on how to submit your ideas here.
Hey Fiona how can you get the Hockey bed from the Hockey room them?-Emilygirl0422
I'm afraid your best bet would be the Trading Room or maybe the Trading Forum on Webkinz Newz, Emilygirl0422. The Hockey Bed (actually, the whole original Hockey theme) is retired, so you won't find it in the W Shop or the Curio Shop.
Hey there Fiona! Happy early Webkinz Day! I was wondering about the old Webkinz Guide Book recently. I'm not able to open it anymore, but I'd love to be able to go over its pages again and was wondering whether there was still a way to read it somehow or if we could get a Special Report with the pages? -pikachu21
Happy early Webkinz Day to you, too, pikachu21! I've passed your message on to Steve Webkinz. With any luck, he'll be posting something about that soon.
Want to write to Webkinz?
Send your letters to:
Ganz #04360 Industrial Parkway
Cheektowaga, NY
14227-9903
Have more questions? Ask them below and you might be featured in the next edition of Fan Mail with Fiona!