Whoa! More fan mail? More fan mail!  It's your fine-feathered friend, Fiona, here to answer more questions. As always, for my past answers, click here!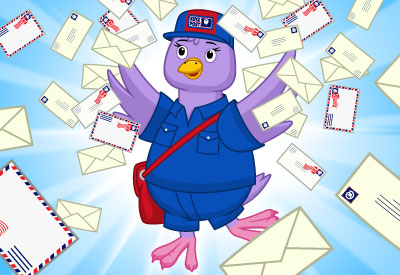 Happy 2016 Fiona!!! Thank you for sorting through and answering our Fan Mail queries. I'n hoping my Return of Academy Actions Question did not get lost and you get to answer it next batch! – 50ishwebbies
And a very happy 2016 to you, as well! I truly wish there was something concrete I could tell you…other than Actions will be back eventually. It's not the greatest answer, I know, but you can be sure that we'll be tooting our horns over the return of Actions, and room invites, and all the other things that were affected by Webkinz X.
hay ganz i am just wondering.i have sent in many letters with questions but non of them have been answered.why is that – Rnw9kinz
Hi there, Rnw9kinz! Sometimes questions aren't answered because they've already been answered before. You might want to take a looksie through the archive of answers. Other times, there's no real answer. We're working hard on fixing all that went squirrelly with Webkinz X, so many questions on when this or that in particular will be fixed, the only answer is that we're working on it. Keep asking questions, though — you never know when your question will be picked! (Like it just was!)
Hi Fiona!!! I love completing challenges, it's so fun and the prizes are awesome, but I've finished for awhile them all. Will there be more new ones, except Monthly Deluxe Challenges and others for events like Winterfest or Wacky Celebration, because is really fun to complete them!!! – WebkinzLover2015
Hiya WebkinzLover2015! Wouldn't you know it? I think I heard some chit chat around the water cooler about just this subject. Not sure how many permanent Challenges are in the works, but there may be some cool new short term ones coming up.
Want to write to Webkinz?
Send your letters to:
Ganz #04360 Industrial Parkway
Cheektowaga, NY
14227-9903
Have more questions? Ask them below and you might be featured in the next edition of Fan Mail with Fiona!