It's me, Fiona, back for another round of fan mail! As always, for my past answers, click here! If you miss me, you can always head to KinzPost and send a letter or a package, and I'll deliver it for you!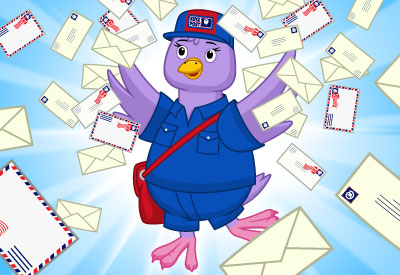 Happy Holidays, Fiona! I've just been thinking–with the changes to the Mobile App and having it more like the website, do you think one day we'll be able to use our Free Spin coupons on the mobile Wheel of WOW? Sometimes the prizes are really awesome, and I'd love to be able to use one of my coupons. -ImaPepper
And a wonderfully Happy Holidays to you, ImaPepper! That's a great question, but I don't think you're going to like the answer. Those coupons probably won't work on the Wheel of WOW on mobile because they're two separate wheels. You'd need separate coupons! But that doesn't mean there won't eventually be coupons for the mobile Wheel of WOW. That'd be something, wouldn't it?
Unable to send packages or letters to anyone when in Webkinz. Click on mailbox then package or mail and the contacts do not show - mnswp2
So sorry to hear you're having trouble, mnswp2. Please check to see if you've got your own username as a friend on KinzChat — if you do, that causes all kinds of trouble with the address book! Just remove yourself as a friend, and it should be right as rain.
Another question how do you get drawings featured on the fan art show case? – foxmillionair
I love delivering fan art! There are a few ways you might catch the eyes of our team. You could upload some pictures to our Fan Art gallery on the Share Center — that's checked regularly. Sometimes they find art on Kinztagram or even Facebook.
Want to write to Webkinz?
Send your letters to:
Ganz #04360 Industrial Parkway
Cheektowaga, NY
14227-9903
Have more questions? Ask them below and you might be featured in the next edition of Fan Mail with Fiona!