It's me, Fiona, back for another round of fan mail! As always, for my past answers, click here! If you miss me, you can always head to KinzPost and send a letter or a package, and I'll deliver it for you!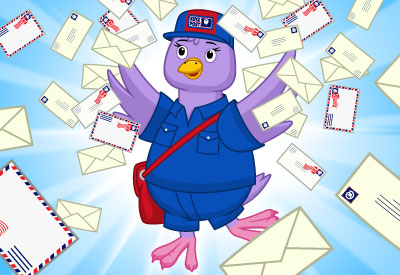 Dear Fiona. I wondered if I could take some retired exclusives out of an old free account and put them in my new account without having to buy a new webkinz or deluxe membership. Thanks! – Ttgbird14
Thanks for writing, Ttgbird14. Unfortunately, there's no way for you to move items from your free account anywhere else without upgrading the account to full or Deluxe. Free members cannot send packages in KinzPost or use the Trading Room, so you'll have to either adopt a Webkinz pet or get a Deluxe membership for that account. There are occasionally some great sales on Deluxe memberships, even 1 month or 3 month ones, and you can find some older Webkinz pets at dollar stores if you're on a tight budget. Good luck!
Hi Fiona! I was wondering, when will the MyPage come back to Webkinz World? I really miss making my own stories that you could do and show your collection of your items. I really miss the MyPage. Do you think it will ever return? MyLittlePony2010EG13
Hi, MLP! My Page will not be coming back, but it will be replaced by something else, hopefully soon. If you fancy stretching your story-writing skills, you may want to check out the forum — there are several role-plays going on, and you could start your own or just share a short story. If you've got a room filled with your favorite stuff, you can also submit it to the Share Center.
Hi Fiona! Plz answer this before the month is over. I (and others) have been experiencing trouble with the design a pet 2017. I don't have the submit image button show, only when i log out there is, and when i log into my back-up, the button still isn't there. I have a cool design. Plz help me. I CAN NOT miss this contest. :( – duckgirl1118
Sorry to hear about all the troubles you're having, duckgirl1118! Anyone having trouble with the Share Center should try a few things: 1.) Clear your cache 2.) Try a different browser 3.) Create a new GanzWorld account. It looks like some GanzWorld accounts just don't have the permissions needed to upload to certain Share Center categories, so the best bet is to start fresh. Hope that helps!
Want to write to Webkinz?
Send your letters to:
Ganz #04360 Industrial Parkway
Cheektowaga, NY
14227-9903
Have more questions? Ask them below and you might be featured in the next edition of Fan Mail with Fiona!