It's me, Fiona, back for another round of fan mail! As always, for my past answers, click here! If you miss me, you can always head to KinzPost and send a letter or a package, and I'll deliver it for you!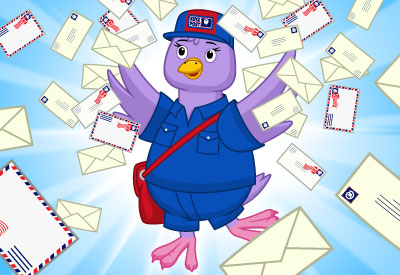 Hi Fiona! I was wondering why the button to invite people to my house does not work. My friend's doesn't either! We thought we just had to both be deluxe, so we tried that, and it does not work. :( Why isn't it working?? Can you please fix it? – bubbashuka
Hi, bubbashuka! This question has been answered before, but it seems to be coming up a lot recently. Since Webkinz X, no one has been able to invite anyone to their houses. That functionality has not yet been added back in, though it is being worked on. We hope to have it soon, since inviting friends over is so much fun!
Fiona, do you think the Ganz eStore would ever award you free eStore points if you spent a certain amount of money? Like for every $30 you spend on plush pets during a year, you get 10,000 eStore points for free? Something like that would be cool! I would be more motivated to buy plush from the Ganz eStore than say ebay or Amazon if we were rewarded with eStore points. – Cherrycheesecake
Thanks for your question, Cherrycheesecake. Your suggestion has been passed on to the Ganz eStore team. In the meantime, you may also want to watch our Amazon store for specials — sometimes our plush pets are bundled with extra eStore points (sometimes referred to as Deluxe points).
I remember when the pet if the month video gave you a prize for answering questions at the end of the video. I just started back pkaying after being gone for a couple yes. I cant get them to play on my phone. Or on my laptop. Is there something i need to up date. There was a Go Go Googles wallpaper as one if the prizes and i really want to win it again. Thanks. Love you always – Mrchaka
Hi, Mrchaka! Unfortunately, the Watch and Win videos stopped working on Webkinz Newz, so they were replaced with just the plain videos for the songs. But fear not! If you check out the Movie Theater on the Kinzville Map, you can find a different Watch and Win video each week. It may take a while, but your favorite video should appear back there eventually.
Want to write to Webkinz?
Send your letters to:
Ganz #04360 Industrial Parkway
Cheektowaga, NY
14227-9903
Have more questions? Ask them below and you might be featured in the next edition of Fan Mail with Fiona!