It's me, Fiona, back for another round of fan mail! As always, for my past answers, click here! If you miss me, you can always head to KinzPost and send a letter or a package, and I'll deliver it for you! Don't forget, you can add me as a friend by going to KinzChat and adding Fiona Feathers (include the space!).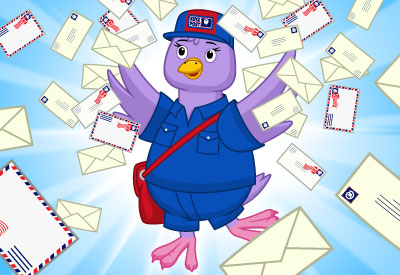 Hey Fiona, one of my friends is considering getting me a deluxe membership for my birthday, but we're not sure how that would work, since I don't have an estore account. Would I have to make a new one to receive my deluxe membership, or can I enter the code through the code shop? Thanks, and have a great day! – Hanagirl9
Thanks for your question, Hanagirl9! You will have to create an eStore account in order to apply the Deluxe Membership code to your account. But don't worry — you don't need a credit card number to create one. If you're concerned, please have a parent or guardian create one on your behalf.
I wonder if anyone can answer this question. I couldn't find the answer anywhere. What happened to Tulip Trouble 1? What was it like? – Resonatingthunder
What a great question, Resonatingthunder! The original Tulip Trouble was before my time, so I had to track down the Creative Director. Turns out that it was only available for a couple of weeks when Webkinz World first launched in 2005! So unless you were one of the first players, you wouldn't have seen it. It looked pretty much the same as Tulip Trouble 2, but was much simpler and only had one level. Just like Wishing Well 2, Tulip Trouble 2 is a replacement, rather than a sequel.
Hi, Fiona! I was wondering if you could pass on a suggestion to the Webkinz team? I finally made a room with the Nursery theme and I think it's really cute, but I was disappointed to find out that there are no actual beds in the theme. I had thought the little bassinets were beds, but the pets can only sit in them. Do you think they could make some actual beds so our baby pets can sleep in the Nursery? They could be little cribs or cradles, or maybe just turn the bassinets into beds? – RockRfox
I am happy to pass the request on, RockRfox.
Want to write to Webkinz?
Send your letters to:
Ganz #04360 Industrial Parkway
Cheektowaga, NY
14227-9903
Have more questions? Ask them below and you might be featured in the next edition of Fan Mail with Fiona!