It's me, Fiona, back for another round of fan mail! As always, for my past answers, click here! If you miss me, you can always head to KinzPost and send a letter or a package, and I'll deliver it for you! Don't forget, you can add me as a friend by going to KinzChat and adding Fiona Feathers (include the space!).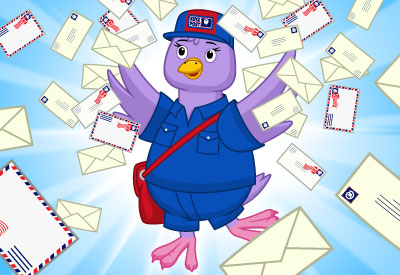 Hi, Fiona. Do you know which section of the W-shop I can get the skateboard in? I took over my son's account and trying to catch up on challenges but I can't find the skateboard!! – L1ndstead
I sure do, L1nstead! Head to the W Shop, then click on the Fun Stuff. Click on the right arrow to go to Rides & Cars. You'll find the Skateboard in there. Happy shopping!
Hi Fiona! I have a question I would really like to have answered; I bet others do too cause this is regarding me and some good friends of mine. I love webkinz and never have done or said anything bad in the Kinz Chat Plus. Nor have 5 of my friends. They are the sweetest people I know. But, Webkinz permanently banned me and my friends. These bans have all happened very recent within days of each other. Is this a technical glitch in the system? Will these not-at-all-deserved bans be lifted? I hope this gets answered. Thank you for your time! :) – W5kinz
Hi, W5kinz! When it comes to KinzChat Plus issues, you'll have to direct your questions and concerns to webkinzsupport@ganz.com — they're the ones that can check the logs to see if there was perhaps a mistake, or can let you know what it was that got you and your friends banned in the first place. The KinzChat Plus rules are pretty strict, but it's meant to keep you safe. Good luck!
Hi Fiona! I have a quick question for ya – When will another arcade game be released, for non-Deluxe (or maybe even Deluxe) members? I always have fun trying out the new games and I have to be honest, I'm starting to get anxious for a new one. Thanks! :) – Prettypikachu
You're in luck, Prettypikachu! There's a brand new Arcade game coming this Wednesday. I had a chance to try it out, and it's pretty fun! Hope you love it, too.
Want to write to Webkinz?
Send your letters to:
Ganz #04360 Industrial Parkway
Cheektowaga, NY
14227-9903
Have more questions? Ask them below and you might be featured in the next edition of Fan Mail with Fiona!