It's me, Fiona, back for another round of fan mail! As always, for my past answers, click here! If you miss me, you can always head to KinzPost and send a letter or a package, and I'll deliver it for you! Don't forget, you can add me as a friend by going to KinzChat and adding Fiona Feathers (include the space!).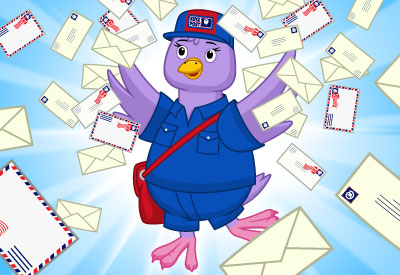 Where can you find your pet medallions after you earn them? – 19952005
Thanks for your question! When you earn a Medallion, just click on the My Pets button to bring up the My Pets screen. You'll see that a Medallion tab has been added here. Click on that to see all the Medallion pets and how many of each pet's Medallions you've collected.

Hi Fiona I have been playing webkinz since late 2006 and I was wondering if they are ever going to change some of the prizes in The Prize Klaw Machine. I do not remember if it has ever been done, and I already have every thing from the game and then some. Respectfully yours Twistersmom.
Tee hee. Well, Twistersmom, let's just say that I think you're going to be very happy soon.
Hi Fiona! I was wondering if Webkinz got rid of the Soccer Challenge? It used to be in the daily activities a year ago and I was just getting good at it before it stopped showing up so I'd love to see it return! I believe the last time I saw it was in September 2017. – bluenightkitty
Thanks for your question, bluenightkitty. Unfortunately, the Soccer Challenge hasn't been working well for a long time, so it was taken down in the meantime. With any luck, it'll be back up and running in the future.
Want to write to Webkinz?
Send your letters to:
Ganz #04360 Industrial Parkway
Cheektowaga, NY
14227-9903
Have more questions? Ask them below and you might be featured in the next edition of Fan Mail with Fiona!