It's me, Fiona, back for another round of fan mail! As always, for my past answers, click here! If you miss me, you can always head to KinzPost and send a letter or a package, and I'll deliver it for you! Don't forget, you can add me as a friend by going to KinzChat and adding Fiona Feathers (include the space!).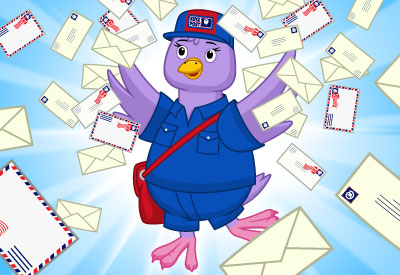 Dear Fiona, I was wondering if webkinz was ever going to switch up the games that you can earn medallions. While Atlantis and the other games are fun they become quite tiring after playing them a lot and I would really enjoy earning medallions from games like tile towers! – leah7bear
Hi, leah7bear! Right now, the only games that can award Medallions are the newer ones, and ones that have been recently upgraded. That makes it a little tricky for the rest of them. But there are still more new games coming, so there will be more ways to earn Medallions coming soon!

Hi Fiona! Happy weekend in Kinzville! Thank you for all the messages you so diligently give to Webkinz from all the members. I would like to inquire: If you have a moment; would you please suggest to the "Powers That Be" to have a WKN mosaic gem tile 0NLY Peek A Newz in February, 1019. Some months these tiles have been quite elusive for my friends and I! I appreciate any light you can shed on this predicament. THAN Y0U kindly! 50ishwebbies
Thanks for your suggestion, 50ishwebbies! I passed it on and heard back that avid collectors might want to make sure they don't miss the Mystery Prizes on the Today's Activities page, especially from October onwards.
Hi Fiona, after spinning the Wheel of the Month today, I was wondering if the hat could be changed. It's a sun hat, which is nice for my girl pets, but my boy pets would rather have a ball cap, or any other style hat. Thanks. – GinnyRainbow
I'll be sure to pass the suggestion on, GinnyRainbow! Thanks for writing in.
Want to write to Webkinz?
Send your letters to:
Ganz #04360 Industrial Parkway
Cheektowaga, NY
14227-9903
Have more questions? Ask them below and you might be featured in the next edition of Fan Mail with Fiona!