It's me, Fiona, back for another round of fan mail! As always, for my past answers, click here! If you miss me, you can always head to KinzPost and send a letter or a package, and I'll deliver it for you! Don't forget, you can add me as a friend by going to KinzChat and adding Fiona Feathers (include the space!).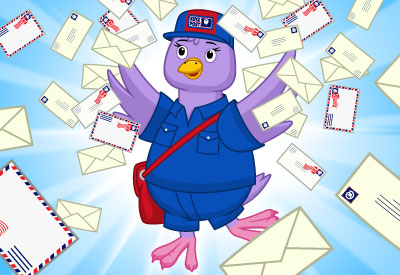 Hi, Fiona. My question is if I sell a dresser back to the W-shop and i forgot to empty it, do I lose the clothing in it? (I can't find my seashell shoes!!) – kadielle
Don't worry, kadielle — anything that's in your dresser when you sell it gets put back in your Dock. You receive a message telling you exactly that, too.
Hey Fiona! I can't seem to go anywhere on Webkinz! It always asks me to adopt a pet to do the thing. What should I do about this? – yay5634
Hi, yay5634! You have a couple of options — 1.) Look at your favorite retailer to see if they carry any Webkinz plush, or pick up one of our virtual pets from Ganz eStore to upgrade your account to full, or 2.) head to Ganz eStore and pick up a Deluxe Membership. You don't have to do either of those things, of course, but certain parts of the site will be restricted.
Hey, Fiona! I got a question, when the holidays come around, what do you and your family do for Thanksgiving-Christmas?? Do you do any special traditions? =) -MyLittlePony2010EG13
Good question, MyLittlePony2010EG13! My family has a tendency to fly south when it starts getting colder, but I like to get nice and cozy right here at the Ganz headquarters. We celebrate Thanksgiving a little earlier (had mine already!) and I like to invite everyone who's alone for the season to come along. Same goes for Christmas — everyone becomes a part of my family at this time of year!
Want to write to Webkinz?
Send your letters to:
Ganz #04360 Industrial Parkway
Cheektowaga, NY
14227-9903
Have more questions? Ask them below and you might be featured in the next edition of Fan Mail with Fiona!