It's me, Fiona, back for another round of fan mail! As always, for my past answers, click here! If you miss me, you can always head to KinzPost and send a letter or a package, and I'll deliver it for you! Don't forget, you can add me as a friend by going to KinzChat and adding Fiona Feathers (include the space!).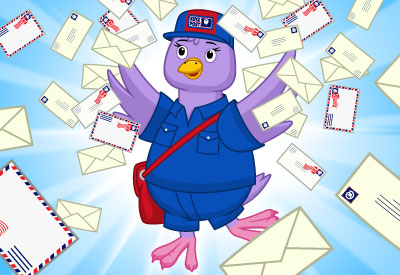 Dear Fiona Fiona, I just got the brand-new Christmas Cabin Theme, including the bunk bed! I was so excited to get my first bunk bed, but for some reason, only one of my pets can sleep on it even though it says in the WShop that 2 pets can sleep on it. If I have one pet on the bottom bunk and try to get my second pet on it, it just switches pets! Is there a way both my pets can sleep on the bunk bed? Thanks a million, Princessunicorn
Oh dear, that's a pickle. But I'm happy to let you know that this was found (and fixed!), but not in time for maintenance. Your pets will be happily bunking together after the next update on December 19.
Hey Fiona, is there a way that you can give me money for a penguin webkinz – MariaGlow
Sorry, MariaGlow, but I've got no money to give you! If penguins are your favorite, you'll be happy to hear that the Penguin will be available as one of the free pets to adopt for new accounts for a little while, starting December 19. If you already have a Webkinz World account, I'd suggest working towards earning a free Baby Penguin by collecting Baby Penguin Pet Medallions!
Dear Fiona, I was wondering what other ways to earn pet medallions will be added in the future and when will more pets will be added? I really like that we can get medallions as a log-in gift, through playing games, through the floaty-clicky, in a giftbox each month if we're deluxe, and now on the Wheel of Wow. I'm just hoping more ways are yet to be added so we can get a medallion pet sooner. I have a suggestion that maybe during holidays everyone could be awarded a pet medallion giftbox (like the one Deluxe get) and that maybe pet medallions could be added to balloon darts or the prize claw.
Thanks for your question, WebkinzFanCEG. There probably won't be any huge number of new pets added any time soon, though you might see the odd special one here and there. (There is a contest to design a Medallion Pet right now, actually!) We still have plans to add more ways to earn Medallions — some of you may have even seen some in the Mystery Prizes on the Today's Activities page! Feathers crossed, there will be even more ways to earn after the next maintenance on December 19!
Want to write to Webkinz?
Send your letters to:
Ganz #04360 Industrial Parkway
Cheektowaga, NY
14227-9903
Have more questions? Ask them below and you might be featured in the next edition of Fan Mail with Fiona!