It's me, Fiona, back for another round of fan mail! As always, for my past answers, click here! If you miss me, you can always head to KinzPost and send a letter or a package, and I'll deliver it for you! Don't forget, you can add me as a friend by going to KinzChat and adding Fiona Feathers (include the space!).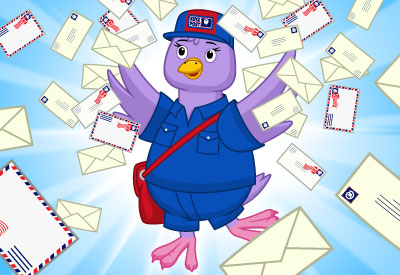 Dear Fiona, Does adopt a pet with pet medallions count as adopting a pet? Because my sister thought she would be able to unlock the adopt a pet option. Thanks, CuteSarahFriend
Thanks for your question, CuteSarahFriend! Adopting a Medallion pet does not have the same effect as adopting using an Adoption Code or through the W Shop. While Adopting a Medallion pet will get you many of the adoption gifts, it does not extend your Full Membership.
HI FIONA! I had a quick question! On here when you press on " Newz blog " it brings you to some news, then when you press recent news it brings you to different news why? I know this is probably a simple question! Ha! Hope you help! THANKS!! HAPPY HOLIDAYS!! – AddieClaire11
Hi, AddieClaire11! Let me see if I can help you here. When you click on Newz Blog, it shows you everything that's posted, in all categories. So articles that are in the eStore category don't necessarily show up on the front page, but it will show up here. The front page shows everything from our Announcements category, and Recent News shows you the rest of the Announcements that aren't on the front page anymore.
Hey Fiona! I'm a member with a new account and I'm on the "Keep in Touch: Playtime with your pet's friends!" and it asks me to play Checkers with a friend. I've played about 10 games of Checkers and nothing has happened! I'm really sick of Checkers now. Can I fix this? Thank you, Unicorngirl2000
Sorry to hear you're having trouble, unicorngirl2000. By any chance, have you won any of those games of Checkers? That's the key to passing that part of the challenge. If you have won a game, please contact webkinzsupport@ganz.com so they can take a look.
Want to write to Webkinz?
Send your letters to:
Ganz #04360 Industrial Parkway
Cheektowaga, NY
14227-9903
Have more questions? Ask them below and you might be featured in the next edition of Fan Mail with Fiona!