It's me, Fiona, back for another round of fan mail! As always, for my past answers, click here! If you miss me, you can always head to KinzPost and send a letter or a package, and I'll deliver it for you! Don't forget, you can add me as a friend by going to KinzChat and adding Fiona Feathers (include the space!).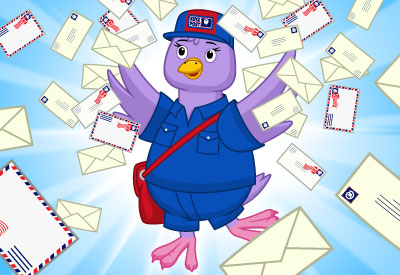 Hi Fiona! Next time the club house has a special even and someone to 'click' on for a prize. . . Can they seat the person in a chair? Like Santa? Or put them up higher? The lost pig, cow, and rescue moose were all covered in visitors and impossible to access. Something should be done! Thank you )  – Sollace
Thanks for your suggestion, Sollace! I believe the team has something special in mind for the next big event.
Hello Fiona! I was just wanting to know, is there any way we can change our usernames? Thank you very much! – cottoncandykayla
Unfortunately, there's no way for you change your username, greeting name or pet name. Sorry! Customer service will sometimes change them if they are inappropriate or contain personally identifiable information, but that's about it.
Hello Fiona, I just recently adopted a pet that awarded me a Super Bed Box. I wanted to get the Lunar Moon Bed but it wasn't one of the choices. I don't recall seeing any notification of retirement. So, is this Super Bed, in fact, retired or is it just an oversight that it's not part of the choices? Thank you!! Your friend, Powerann.
Sorry, Powerann! The Lunar Moon Bed was retired back in 2016.
Want to write to Webkinz?
Send your letters to:
Ganz #04360 Industrial Parkway
Cheektowaga, NY
14227-9903
Have more questions? Ask them below and you might be featured in the next edition of Fan Mail with Fiona!