It's me, Fiona, back for another round of fan mail! As always, for my past answers, click here! If you miss me, you can always head to KinzPost and send a letter or a package, and I'll deliver it for you! Don't forget, you can add me as a friend by going to KinzChat and adding Fiona Feathers (include the space!).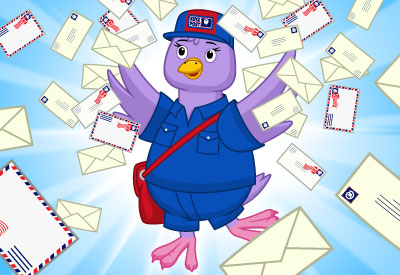 My pets need Dr. Quack's miracle tonic. It was sometimes available on "daily activities" on the weekend. I can't find it ANYWHERE at all, EVER. I really need some. PLEASE get Dr. Quack's miracle tonic SOON. – Elfaba83
Sorry to say, Elfaba83, but when Dr. Quack stepped down as mayor and went back into retirement, he took his Miracle Tonic with him. It may show up again eventually, but for now, the supply has run out.
Do friend requests ever expire? I almost never send them, but somehow it says I have 8 out and have to wait. Just want to make sure that, just in case those are ignored (old) accounts, I can still make friend requests! Your sorry-to-have-so-many-questions friend, RHTQ1 – ngeorgianow
Thanks for your question, ngeorgianow. Friend requests do not currently expire, so if you've sent out your 8 and haven't heard back, people will have to send you requests in order to become friends. You can try sending a message to webkinzsupport@ganz.com to see if they're able to clear your queue.
Will you guys EVER fix one of the best fan designed pets, Axolotls? I have been very patient but each update they stay broken and shoes don't even fit on them right, plus in the room at certain angles their hat disappears and sometimes their pant sleeve aswell. Imagine designing a pet for webkinz and winning only to find out your creation is broken! – chloetyuiop12
My goodness, that is unfortunate. Rest assured, we've let our technical wizards know. With any luck, the Axolotl and the case of the missing hat will be resolved with the next maintenance.
Want to write to Webkinz?
Send your letters to:
Ganz #04360 Industrial Parkway
Cheektowaga, NY
14227-9903
Have more questions? Ask them below and you might be featured in the next edition of Fan Mail with Fiona!