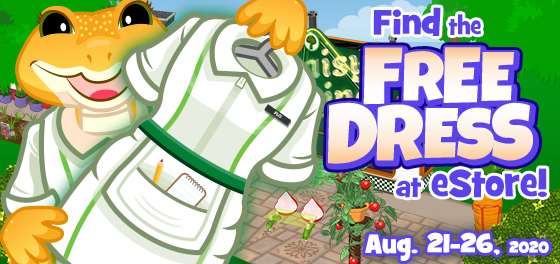 The Mango Gecko was late for work and couldn't find their uniform! Can you help? They're pretty sure that after they changed last night they dropped the uniform while they were shopping for Veggie Fest items at eStore.
Luckily Daisy gave the Gecko a backup uniform, so the Gecko says that if you can find all the pieces of the uniform, you can keep it!

Find the dress by following the clues to collect all the pieces of a Community Code. Then enter in the Code Shop when you log into your Webkinz account. The Code Shop can be found under the Things To Do menu.
Here's how to find the dress:
Follow the clue below to find the first piece of the code at Ganz eStore.
When you find the first piece of the code, you'll also find your next clue.
Keep following all of the clues until you have all the pieces of the code
Enter the code at the Code Shop to have the dress added to your account.
Here is your first clue. Good luck!
You're sure to be in the hot seat when you sit down on this spicy red chair from the Veggie theme!