Once you complete this challenge, the third and final part of your challenge will begin on April 10!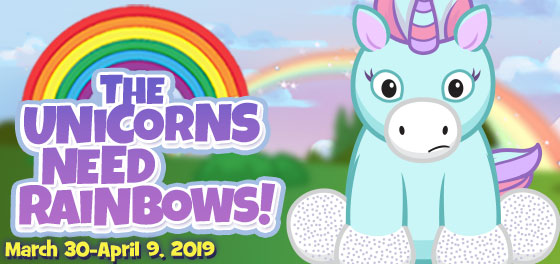 Well, it looks like that naughty Leprechaun got away. Now the Lil Spring Unicorns need to find more rainbows so they'll have enough color to paint their Spring Celebration Eggs!
From March 30 to April 9, the next part of your mission is to help the Lil Spring Unicorns collect more rainbows. We'll have to look all over Webkinz. We all know rainbows follow a storm, so Color Storm in the Arcade will be the perfect place to collect colors. Earn 100 Kinzcash playing Color Storm. New to add more color? Buy three Rainbow Flowers in the W Shop. And the Lil Unicorns are doing their bit to collect rainbow and want to help you out! Visit the Lil Blue Spring Unicorn in the Rainbow Room in the Clubhouse and click on it once a day to get a Rainbow Ribbon and feed 5 to your pets!
If you complete your mission to collect rainbows by April 9, you'll earn some Rainbow Cookie Bark and a Blue Unicorn Rocking Horse! Then wait for April 10 when you get your next mission in the 2019 Spring Celebration Challenge!
You can also collect rainbows in Webkinz Newz! Between March 30 and April 9, look for Rainbow Taffy floating around Webkinz Newz! You can get one per Webkinz account a day!