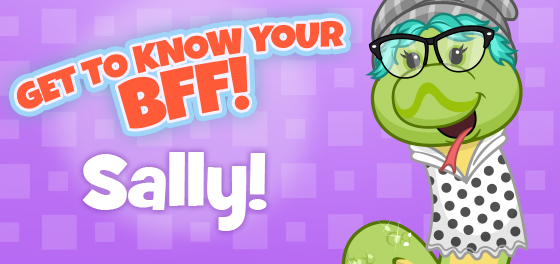 We're still getting to know more about our BFFs and today we want to learn all about our sssensssational BFF, Sally Webkinz! Find fun facts about Sally in Webkinz Classic below, and if you haven't listened to our Podkinz Mini: BFF Challenge Next Edition yet, check it out to learn more about how Sally plays in Next!
Favourite game:
Cash Cow 2

Favourite pet:
Signature Calico Cat
Favorite room in the Clubhouse:
Daisy's Diner
Favorite section in the Magical Forest:
Pixie Pod Pachinko
Favorite job at the Employment Agency:
Ms. Birdy's Assistant
Favorite Kinztune:
Where Did You Get Those Stripes?
Which host do you most closely identify with?
Ms. Cowoline
What is the first thing you do when you log into Webkinz each day?
Check the friend center
Which is your best class at the Academy?
Cooking
Have you ever won the Crown of Wonder? If yes, how many?
Yes, 1. I save the rest of my gems for Doug
What was the last thing you wished for at the Wish Factory?
Peridot Geode