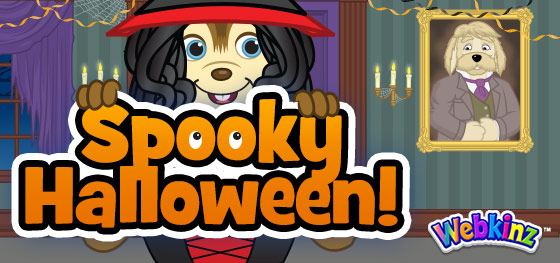 Spooky Halloween from the Mayor of Kinzville!
Remember to log in to Webkinz today to have your Halloween Treat Bag added to your Dock! Drag it into your room to receive your Halloween prizes.
You'll also be able to spin the Halloween Super Wheel! Spin the Super Wheel through Today's Activities which can be accessed through the 'Things To Do' menu (web only).
Today is the final day to catch the Vampire Pop floaty-clicky flying around Webkinz World. You can also visit the Lil Wise Owl in the Park for a candy tile you can place in your pet's room.
Plus be sure to visit the Ghost in the Reading Room in the Clubhouse! How many candies have YOU collected so far? Have you won the Grand Prize? Tell me about it in the comments below.
Be sure to log in so you don't miss any Halloween fun!
So fab. So fun. So frightening!!!