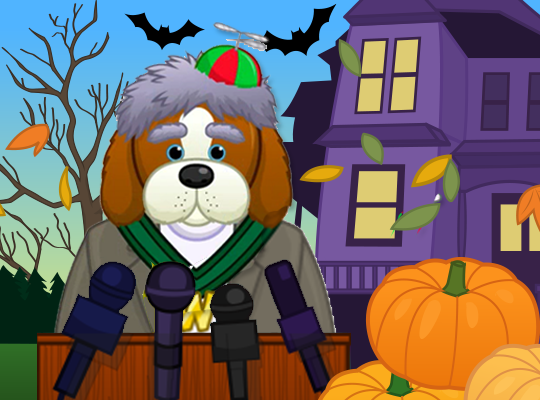 Here is a special message from Mayor Goober:
"Happy Halloween to all my friends in Kinzville! Make sure you claim your treat bag today by logging in to Webkinz Classic, then head to Today's Activities to spin the Super Wheel! Don't forget to visit to the haunted Reading Room at the Clubhouse, and click on the ghost to collect some candy as well. If you manage to collect all twelve by midnight (EST), tonight, you'll unlock a Haunted CampKinz Cabin that would look perfect in a Spooky Campground! This year's Spooky Campground room theme retires tonight, so make sure you pick what you want before the theme is removed from the WShop until next Halloween.
I was honored to meet so many of you when I was handing out gifts at the park in July. I wanted to invite you once again to meet me at the Kinzville Park starting tomorrow. I will be handing out gifts every day until November 9, and there are four different prizes to collect, including a hoverboard that your pet can ride! I can't wait to see you again!
Finally, I want to wish you, your family and friends a safe and happy Halloween, filled with harmless tricks and lots of treats! Oh yeah!"