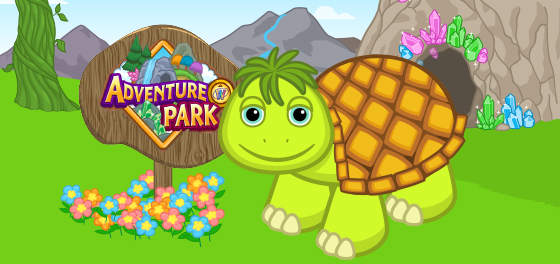 There's a new pet in Webkinz World but it's a little shy! We can't think of any better way to help the Pineapple Turtle to come out of its shell, than to take it on an adventure! That's right – this month we're going to help the Pineapple Turtle overcome its fears by exploring Adventure Park!
This sweet little pet will surely gain courage by venturing into Adventure Park where it may come face to face with a giant, try to outwit a Dragon, and even join forces with a Pirate Ghost!
When Adventure Park first opened, players who purchased an Adventure Park Pet could embark on fun quests with their pets. These days, all the fun of Adventure Park quests is open to everyone with an Adventure Park Quest Pack, which can be purchased at Ganz eStore or in the W Shop. Drag the Adventure Quest Pack into your pet's room to unlock a new Adventure that involves completing tasks which may include finding objects, playing games, or digging up items. When players complete the Quest, they earn an awesome prize, exclusive to Adventure Park! Players who have adopted Adventure Park series pets  also get Mini-Quests players can share with their friends!
There are also Daily Quests for Deluxe players, and they get 10 Digs a day added when they visit Adventure Park!
We'll introduce the Pineapple Turtle to all of the adventures that Adventure Park has to offer! So be sure to follow all the adventures of the Pineapple Turtle this month as we help this shy pet come out of its shell!