IMPORTANT: The glitch with 2018 and 2017 Milk Chocolate Eggs not awarding prizes should now be fixed. To make up for any 2018/2017 Milk Chocolate Eggs that did not award prizes today, please find a community code for a free Rainbow Frosting here.
Also, please note that 2011/2012 Milk Chocolate Eggs do come with a random chance of not awarding a prize.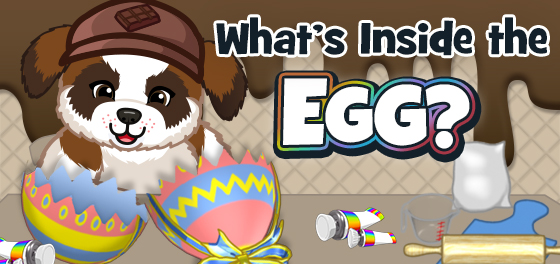 After all of its failed attempts to develop the perfect egg recipe, the St. Bernard Puppy was ready to give up. It had tried so hard to make the most delicious Spring Egg using its special Rainbow Frosting but no one in Kinzville seeme to like the recipe. Discouraged, the puppy headed back to its Chocolate Room, carrying its final egg. The puppy plopped down so hard on the couch that the Spring Egg fell off its lap and onto the floor where it cracked open.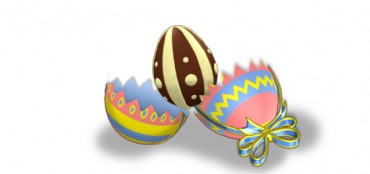 What was this??? Inside the puppy's Spring Egg, was a Chocolate Egg! The St. Bernard Puppy had created an egg recipe that held another egg and the one inside was delicious! The puppy had perfected the recipe!
By combining the following three ingredients on a stove:
- Rainbow Frosting
- Eggs
- Chocolate Bar
the puppy had created a giftbox that held a Chocolate Egg! Each Spring Egg giftbox offers a random Milk Chocolate Egg from past years' Spring Celebrations or the chance to win a Whilte Chocolate Egg!

But now that it has cracked the recipe, the puppy is going to need help to create enough eggs to share with everyone around Webkinz!
Stop by the puppy's Chocolate Room in the Clubhouse between April 8 and 18, 2020 to pick up one of the puppy's tubes of Rainbow Frosting! Then use the Rainbow Frosting in a recipe to make a Spring Egg Giftbox of your own and drag it into your pet's room to earn a Chocolate Egg!
UPDATE: There is a small issue with the Spring Egg Recipe for some players. If you originally opened your account with the generic cat that was available several years ago, you might remember that its PSF was the Chocolate Bar. Please note: you cannot use the Chocolate Bar from the 'Pet Favorites' section under 'Food' in the W Shop to make this recipe. You need to purchase the Chocolate Bar from the 'Ingredients' section under 'Food'. To ensure you are not adding the PSF to the stove when making the recipe, you might want to feed all the Chocolate Bars currently in your Dock to your pets and restock from the 'Ingredients' section. We apologize for any inconvenience.