From March 11 – 17, look for the Leprechaun in the Clubhouse and click on him to earn a Jelly Coin. Make sure you're quick… the Leprechaun only appears for one minute before moving on to another room:
You can stay in one room and wait for him to show up, or try jumping from room to room to try and find the Leprechaun. Click on the pot of gold icon in the bottom right corner of any Clubhouse room to see your coin collection.
There are 6 coins to collect in total. Don't leave your search to the last minute! Once you find the Leprechaun, you'll have to wait for a few hours before you can collect another coin.
If you manage to collect all 6 coins before midnight, March 17, you'll win a Lucky Pond that you can display in your yard: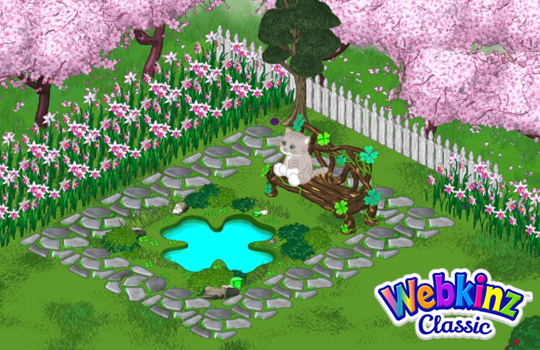 Don't forget to log in to your Webkinz Classic account on Wednesday, March 17, to get this year's St. Patrick's Day prize: A Lucky Bench! The bench will be automatically added to your Dock as soon as you log in.
Do have any tips or tricks to find the Leprechaun? Let us know by leaving a comment below…