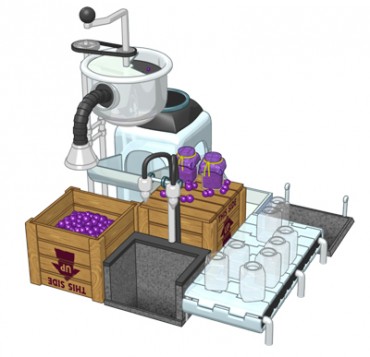 The Berry Festival begins on July 13th. In addition to Floating Berries in Webkinz World, floating Jam Jars in Webkinz Newz and the Berry Festival Challenge, you can also make this amazing new Buildable Item, the Jam Packing Station! You can buy theBuilding Kit for the  Jam Packing Station in the W Shop now – OR  log in during the Berry Festival from July 13th to 28th to receive this awesome Building Kit FOR FREE!!!
The Jam Packing Station is an ultra-cool, automated gizmo that squeezes jam into jars as they go along a conveyor belt, then packs them into a wooden box.
But building such a high tech thing-a-ma-jig is a big job. You're going to need a lot of supplies.
Building Kits are made in three stages. To complete each stage the Jam Packing Station requires:
-          12 Jam Jars (36 Jam Jars in total)
-          10 Crates (30 Crates in total)
-          15 Screws (45 Screws in total)
And when it's supplies you're after, you can always count on your friends! Send out requests to your friends and as they send back the items you need, you can complete your Jam Packing Station. You can even ask Webkinz hosts who are your friends to help you out.
You can also purchase supplies and even get completed stations at the eStore. During the Berry Festival between July 13th and 28th the eStore will be selling three machines that dispense Jumbleberry Jam, Sugarberry Jelly and Pickleberry Relish.
So visit the W Shop to get your new Jam Packing Station Building Kit today, or log in during the Berry Festival from July 13th to 28th to receive it for free.  Because when this item is finished, it's really going to add some flavor to your pet's home!