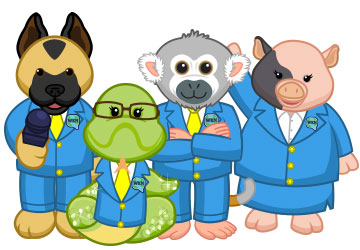 Special Report from Webkinz Newz Headquarters – Webkinz Newz is the best source for what's happening in and around Webkinz. From contests, to Sneak Peeks, to videos, Webkinz Newz offers the latest scoop.
Now, the Webkinz Newz team is sporting a professional new look. Check out the Webkinz Newz Team in their spiffy new outfits.
Of course, Michael, Mandy, Sally and Stephen and all of the team at Webkinz Newz rely on YOU to help keep Newz fresh with your comments and contributions to every story. That's why, during the month of October, we're giving away special Webkinz Newz prizes – ONLY on Webkinz Newz!
Every day in October, look for the floating WKN giftbox on Webkinz Newz and click on it to receive a special Webkinz Newz Prize!
webkinz newz