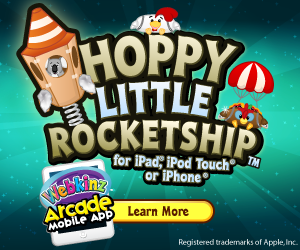 Warning!  This Webkinz™ Arcade Game may be Addictive!
Hoppy Little Rocketship has bounced from the Webkinz™ World Arcade to the App Store!  Play on your
iPad, iPod Touch or iPhone.
How to Play – Tilt your  iDevice to direct the rocketship toward platforms to bounce higher and higher in the sky.  Beware of Balloons!  Collect powerups like emergency soda boosts.  Don't fall down too far or your game may be over.  Earn points which can be converted to KinzCash™ Points to send to a Webkinz™ World account.  For every 200 points, you will earn 1 KinzCash™ point.