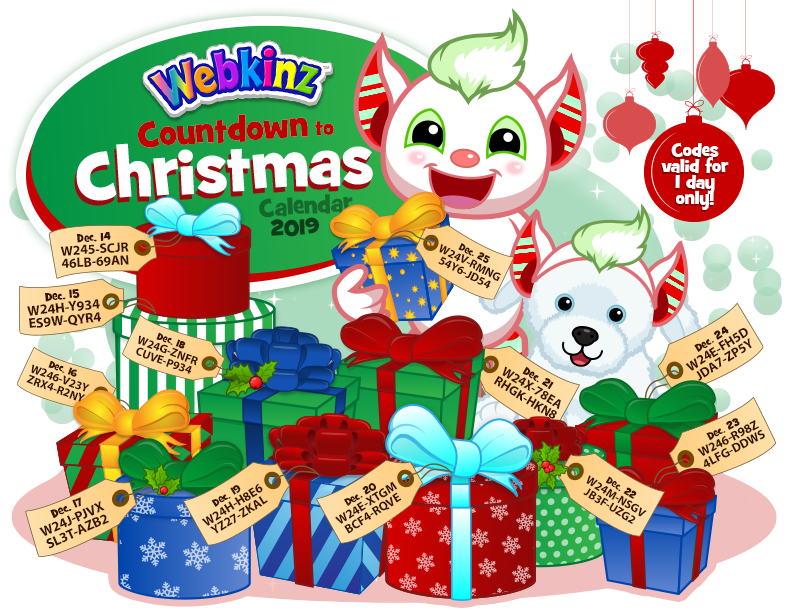 Download the printable PDF here!
To share the love of Webkinz, we are delighted to present you with this Countdown Calendar that offers a gift every day for 12 days! Plus you can share this sweet calendar with your friends! These codes will allow you to add one item per code per account, and can be used on an unlimited number of accounts.
Here's how to use it:
Print out the calendar. Every day between December 14 and 25, enter the code that appears with that date on the tag into the Code Shop in Webkinz World to get your gift! But remember, the prize is only available that day – until midnight EST – so don't forget to log in every day to collect your gift.
And the best thing about this special holiday calendar? In the spirit of the holidays, why not share it with your friends – so everyone can experience the Joy of Webkinz!
Download the printable PDF here!
Please note: Each code is valid for one day only
Remember:
Each code is valid for one day only – the corresponding date that appears on the tag – and expires at midnight EST so be sure to claim it before then and remind your friends to claim theirs.
Please note: If you try to use a code on a date it is not valid or use it more than once you may get locked out of the Code Shop for 24 hours!
You can redeem these codes by entering them at the Code Shop, which you can find in the Things To Do menu on webkinz.com. And the prizes are limited to 1 code per account. Trouble reading the codes? Find them all here!