The Lil Spring Unicorns are so happy to have your help – after the Leprechaun stole a rainbow, they were worried they wouldn't have enough color to paint their Spring Celebration Eggs! But you came through and collected rainbows for them, so now they've prepared their first batch of eggs – and they've even made printable egg holders so that you can display your own painted eggs at home.
Best of all? These egg holders each come with a community code for a virtual painted egg that you can place in your pet's room! There are three egg holders that each come with a free code. Enter the code at the Code Shop on Webkinz.com to get your painted eggs.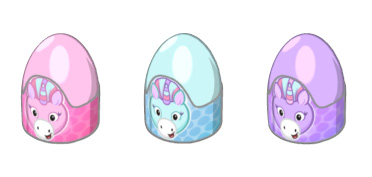 Here's how to make your egg holders:
Download the PDF by clicking here.
Print the PDF.
Cut out the egg holders along the dotted lines.
Curve each egg holder to form an open circle.
With glue or tape, affix the tabs at the back.
Use the egg holder to display your painted eggs.
You can redeem your virtual egg holders by entering the codes in the Code Shop at webkinz.com. Codes award one item per Webkinz account and expire at midnight EST on June 30, 2019.
And in case you have trouble reading them, here are the codes:
Purple Egg Holder: W246-S5AL-KTKA-TKWA
Blue Egg Holder: W24Z-KERL-QB7A-N75C
Pink Egg Holder: W24L-HRTN-XNRS-95LJ