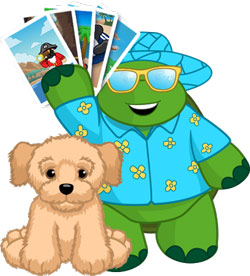 Summer is here and it's time to head out for a vacation. Everyone loves sending postcards and right now Sheldon is looking for a new design to add to the postcards at Vacation Island. Just imagine if you could send your friends a postcard that you designed!
Now is your chance to submit your very own design to add to the postcards on Vacation Island.  One creative designer will be selected to have their idea turned into actual postcard AND win an adorable Apricot Schoodle! Nine runners up will each receive 1 Spa Towel Trolley, courtesy of Ganz eStore.
Here's how it works:   The contest runs from July 1 to July 15, 2017. We will announce ten finalists on July 18, 2017 when we want to hear what YOU think of the designs. The final decision will be up to the Creative Team at Webkinz but we will take your input into account before we announce the winner on the last day of the Marshmallow Collection Event on July 31.
A few things to remember…   You can enter as many designs as you want!   The approximate dimensions of the image are 4.5 wide x 7 high. Although you don't have to use it, to help you out we have included a template below. Please note – we cannot use horizontal images.
Contestants MUST upload their work to the Postcard Design Gallery on the GanzWorld Share Center.
Never uploaded to the ShareCenter before? Don't worry! It's easy. Just watch this video to see how it's done!   You can use any kind of art supplies that you want. Feel free to use markers, pencil crayons, crayons, or other art materials. Go for it!
While we will not accept images that have computer generated patterns or graphics copied and added to them, participants may use programs like Paint or Photoshop to color and draw freehand.
We can't accept submissions with company logos or sports team emblems.   Please make sure you save your images as a jpg, gif, or png.
Click here for full contest rules.
Bring on your ideas! We can't wait to see which new postcard will soon be added to Vacation Island.