Is there an item you have wanted to see in WShop but haven't been able to find it? Or maybe there is something you think would fit perfectly with an existing theme.
Now is your chance to submit your very own design to add to one of our existing WShop themes.   Five creative designers will be selected to have their idea turned into actual WShop items – and, each winner will receive one of our most rare Webkinz Pets – the Sparkling Pegasus!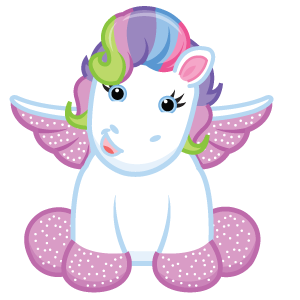 Here's how it works:   The contest runs from April 21 (after 9am) to April 30, 2017. We will announce  the five winning designs on Mother's Day, May 14, 2017.   Then, our talented artists go to work – taking the winning designs and turning them into awesome items that will be released throughout the rest of the year.
A few things to remember…   You can enter as many designs as you want!   Your design must be an add-on to an existing WShop theme that is currently available for KinzCash.  No eStore items, please!
Contestants MUST upload their work to the WShop Item 2017 gallery on the GanzWorld Share Center.
Never uploaded to the ShareCenter before? Don't worry! It's easy. Just watch this video to see how it's done!   You can use any kind of art supplies that you want. Feel free to use markers, pencil crayons, crayons, or other art materials. Go for it!
While we will not accept images that have computer generated patterns or graphics copied and added to them, participants may use programs like Paint or Photoshop to color and draw freehand.
We can't accept submissions with company logos or sports team emblems.   Please make sure you save your images as a jpg, gif, or png.
Click here for full contest rules.
Bring on your ideas! We can't wait to see what cool items will soon be added to the WShop.