UPDATE: We are excited to announce the randomly selected winners in our 'Share Your Underwater Room' Share Center Contest! Thank you to everyone who submitted a room!
The three randomly selected Grand Prize winners of one Pirate Cove Package each are:
cat2f
gappytoo
50ishwebbies
The ten randomly selected runners-up, winners of one Pirate Cove Giftbox each are:
prettypikachu
peacheysmiles
19952005
perfect29_backup
doodlesotheraccountnewz
chatnoir25
alessamo
ajoy65
nibbles123451209
chocolatelogic
Congratulations!!! Winners, look for a message at the email address associated with your GanzWorld account by end of day tomorrow, Thursday, August 30, 2018.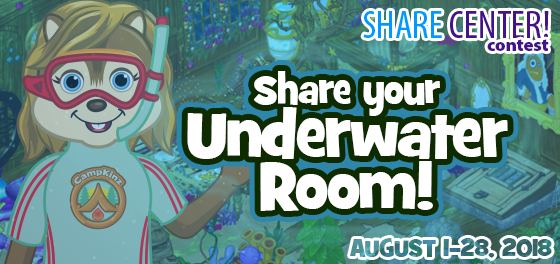 UPDATE: Please note – because Underwater rooms are exclusive to Deluxe and full members – your entry may also be a regular room decorated to look like either an underwater or seaside room – anywhere you think might make a great place for a dive!
Sophie has discovered some amazing treasures on her dives that she is sharing in the Sophie's Dive Clubhouse Room. But we want to know what YOU have discovered on your dives! Enter your Underwater Room at the Share Center between August 1 and 28 to be entered into a random draw. We will be giving away three grand prizes of Pirate Cove packages – ALL pieces of the Pirate Cove theme, including the wallpaper and flooring – as well as ten runner up prizes of one Pirate Cove gift box.
Check out this video for instructions on how to post to the Share Center.
How to enter:
Create an underwater room or an 'undersea' room (a regular room designed to look like an underwater room) in Webkinz World.
Take a screenshot of your underwater room.
Share it on the Share Center in the Underwater Room Gallery by August 28, 2018. One entry per person, please.
Good luck!