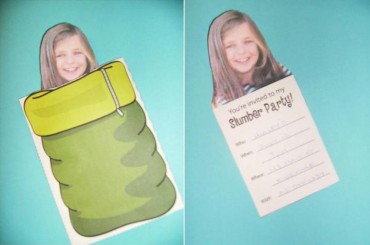 Amanda Panda here. I thought of a really cool idea for a slumber party invitation and I wanted to share it with you in case any of you were thinking of throwing your own slumber party.
What you need:
-          Downloadable PDF Slumber Party Invitation
-          White card stock
-          Printer
-          A digital photo of yourself
-          Scissors
-          Glue
-          4×6" envelopes
What you do:
Download the attached template. On white card stock print out as many copies as you need (you will need to print out three copies of the first page for every one copy of the second page). Cut out the invitations and sleeping bags along the cut lines.
Scale a photo of your head and shoulders down to 2.5" x 2.5" and print out enough photos for your invitations. Cut out your photos and glue them to the invitations.
Fold sleeping bags along fold lines. Run a line of glue down the white tab on the side, and tuck it under the other side of the invitation, gluing it in place. You can also put a bit of glue inside the bottom of the sleeping bag so that your invitation won't slip out the end.
When all the glue is dry, write your information on the invitations and insert each invitation into a sleeping bag and tuck them into envelopes.