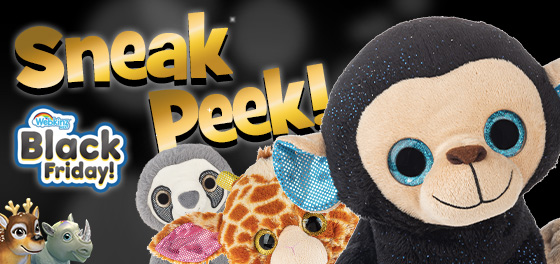 Love plush? Then you're going to love Black Friday! Be sure to visit Ganz eStore and for our American player, Amazon.com, and check out our plush deals! Plush Webkinz pets come with two codes, one for Next and one for Classic, and each plush purchase from Ganz eStore includes shipping right to your door!
Black Friday is virtually the best time to add pets to your Webkinz Next family because there will be deals on virtual pets too! Check out the Adoption Center in Webkinz Next!
Remember, pets in Webkinz Next come with Sparks! You can combine Sparks from your pets to create adorable Webkinz babies that grow into adult pets with their own Sparks!
So visit the Next WShop, Ganz eStore, and if you're in the USA, in the Webkinz shop in Amazon.com for savings on virtual and plush pets on Black Friday!
Also, did you know you could save even more by checking out your favorite app store for Black Friday deals that you can use to make purchases in the game!
Download Webkinz Next now — available for Mac, iOS, Android and Windows 10. Download Webkinz Next
Follow us on social media:
social media