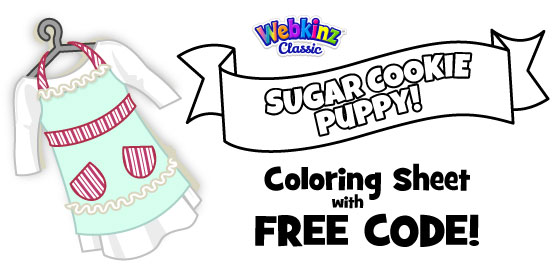 The Sugar Cookie Puppy will only be available for a limited time. This special pet be be in the Ganz eStore and in the WShop from Black Friday, November 25, 2022 to Sunday, November 27, 2022. And from November 19 to 27, you can visit the Sugar Cookie Puppy in the Clubhouse, where it's handing out a poster with a recipe for a yummy Puppy Sugar Cookie!
Celebrate the arrival of this sweet puppy with a printable coloring sheet! This cute coloring sheet shows off the puppy as it bakes up a batch of cookies, and it also includes a FREE code for a new Sugar Cookie Apron!
To download this festive coloring sheet, just click on the image below or click here!
Want a second Sugar Cookie Apron? Log into Webkinz Classic and check your Kinzpost!