The Snowy Retriever Puppy needs a new home, and if you manage to collect 100 Snowy Retriever Puppy Pet Medallions throughout December, you'll be able to add this adorable pet to your Webkinz family.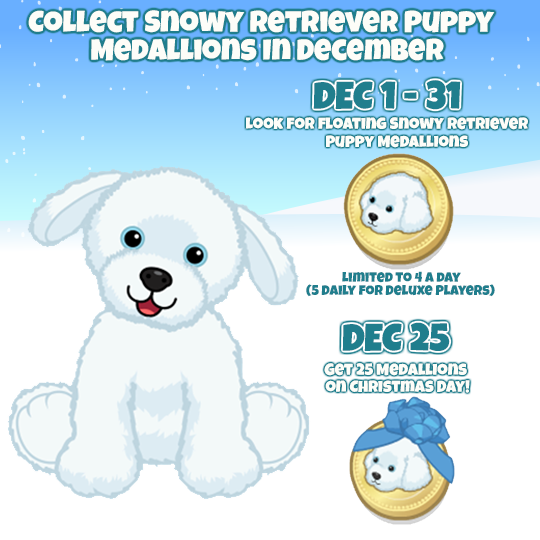 Here's how it works: From December 1st – 31st, look for floating Snowy Retriever Puppy Medallions in Webkinz World and click on them to add them to your collection (limited to 4 medallions a day, 5 for Deluxe players). You'll need 100 to adopt this pet, so be sure to play every day for the chance to get as many medallions as you can!
To make it a little easier, you'll get 25 Snowy Retriever Puppy Medallions on Christmas Day. You'll find them in your 2019 Christmas Gift Box.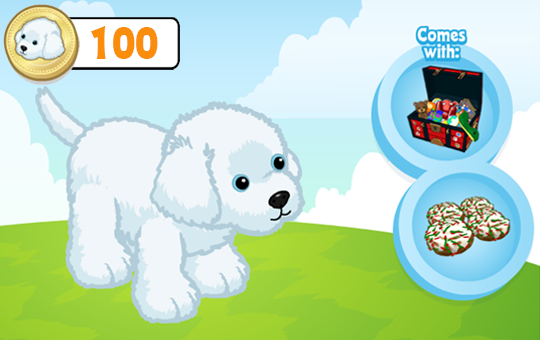 If you have medallions left over from last year's event, you'll be able to continue collecting where you left off. If you have already adopted this adorable pup, you can try and go for a second one or, use your extra medallions to trade for some AnyPet Medallions!
Have you found any Snowy Retriever Pet Puppy Pet Medallions today? Let us know by leaving a comment in the section below…