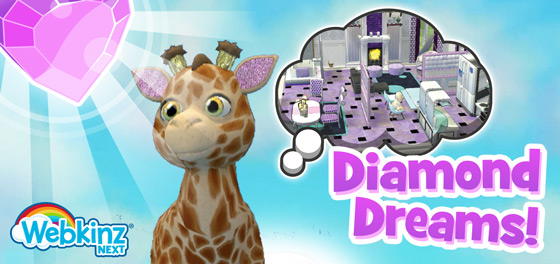 Premium themes in Webkinz Next are so pretty on their own but have you tried combining them?
Check out these cool combo rooms!
Do you like jewel tones and cool tones? The Aqua Blue Theme is vibrant but if for a cozier setting, try pairing it with warm accents and complementary blue décor from the Denim and Lace theme.
First, use the Creative Studio wallpaper as a hip baby blue and grey backdrop. The softer tones on the wall will; anchor the lively blues in both of these themes. Then, for warm, simple flooring, stick to wood gradients like the Café Flooring or Beach House Flooring.
Use the blue living room items from Denim and Lace to complement the Aqua Blue coffee table. Or, try mixing and matching the light and dark armchairs and sofas for a warmer, textured look.
In this room, we've placed a Drafting Table next to the Denim and Lace desk. A perfect corner for your busiest pets.
The lamps from each of these themes have opposite architectures. Pose them in opposite ends of the room for a quirky, color-coordinated vibe.
Once the Denim and Lace items are added to the Aqua Blue Theme, add warm accents like a Simple Wall Shelf, Decorative Candles or a Framed Treasure Map. Now the Aqua Blue Theme is a cozy escape!
Moonbeam Sparkle and High End  
If you love to sparkle, then why shouldn't you do it with high end style?
The Moonbeam Sparkle Theme is so much fun but it doesn't include a kitchen so we've added the High End Theme's kitchen to its corner to make a this room a very sophisticated suite.
The black Modern Rug neutralizes the pinks and purples in the Moonbeam Sparkle Theme and a neutral statement piece like the black Big City Loft Sofa can really accent those colors nicely too.
The Moonbeam Sparkle Theme features ceiling-to-floor curtains and wall dividers. We've used those items to tie the entire room together and it looks like a sparkling success!
So, gather your pets around the Moonbeam Sparkle Fireplace or Piano while the rest of the family socializes in the kitchen. This room has everything you need for a dazzling family evening.
These rooms are only two examples of how you can use premium themes to decorate your home. Of course, you can mix and match premium items with other items to create all kinds of exciting themes. Which themes are your favorite?